Raven's Books on Alternative Relationships
Polyamory, Power exchange, Dominant/submissive relationships
Unequal by Design: Counseling Power Dynamic Relationships
Anthology edited by Sabrina Popp, M.D. & Raven Kaldera (Alfred Press, 2014)
Power dynamic relationships – meaning deliberately negotiated unequal relationships – are often misunderstood by mental health professionals as inevitably abusive. This anthology of essays by kink-aware therapists explodes that myth, and gives solid, practical advice for effectively counseling couples in these alternative relationships. Edited by a psychiatrist and a professional educator on power dynamic relationships, this book should be a cultural-competency reference for any mental health professional, because you never know who might be sitting on your couch someday. (119 pages, 6″x9″) Buy Unequal by Design at Alfred Press
Paradigms of Power: Styles of Master/Slave Relationships
Anthology edited by Raven Kaldera (Alfred Press, 2014)
Consenting Master/slave relationships come in all varieties, inspired by many different historical periods and modern subcultures. One of the wonderful things about this lifestyle is that we can create our own unique paradigm with its own rules, protocols, and vision. From Victorian to medieval, from Leather to Gorean, This collection of essays by many practitioners of M/s showcases the beauty and diversity of this demographic, and will hopefully be an inspiration to future couples and families who are only now finding their way onto this road. (271 pages, 6″x9″) Buy Paradigms of Power at Alfred Press
Broken Toys: Submissives with Mental Illness and Neurological Dysfunction
Anthology edited by Del Tashlin & Raven Kaldera (Alfred Press, 2014)
In erotic stories, consensual submissives and slaves are usually beautiful, perfect people who can endure any hardship while balancing a tray of drinks in one hand. But what about real life, where many of us in dominant/submissive or master/slave relationships cope with mental illness or neurological disorders? Some would say that these individuals shouldn't even be doing power exchange, and yet many are – and they are making it work. Broken Toys explores the brave stories of people in service and surrender who are struggling with imperfect brains and nervous systems, and the inventive masters and mistresses who love them, and find ways to use the dynamic to keep everyone going. (255 pages, 6″x9″) Buy Broken Toys at Alfred Press
Mastering Mind: Dominants with Mental Illness and Neurological Dysfunction
Anthology edited by Del Tashlin & Raven Kaldera (Alfred Press, 2014)
In the world of Dominant/submissive and Master/slave relationships, new seekers often find an overriding ideal archetype of dominants, masters, and mistresses always being calm, controlled, and with all their mental and emotional faculties perfectly in line. But what happens when the dominant struggles with a mental illness or some kind of neurological disorder? Some would say that these individuals shouldn't even be doing power exchange, and yet many are – and they are making it work. This book is an anthology of the experiences of brave dominants who strive to be honorable and effective in the face of these odds, and the people who gladly serve them. These stories are a bouquet of triumph and loyalty, and an inspiration to every practitioner of power dynamics who reads them. (143 pages, 6″x9″) Buy Mastering Mind at Alfred Press
Kneeling in Spirit: Disabled Submissives
Anthology edited by Raven Kaldera (Alfred Press, 2013)
In erotic stories, consensual submissives and slaves are usually beautiful, perfect-bodied people who can endure any physical hardship while balancing a tray of drinks in one hand. But what about real life, where many of us in dominant/submissive or master/slave relationships cope with imperfect bodies and real-life challenges? Kneeling In Spirit explores the brave stories of disabled people in service and surrender, and the inventive masters and mistresses who love them. (95 pages, 6″x9″) Buy Kneeling in Spirit at Alfred Press
Hell on Wheels: Disabled Dominants
Anthology edited by Raven Kaldera (Alfred Press, 2012)
In the world of Dominant/submissive and Master/slave relationships, new seekers often find an overriding ideal archetype of dominants, masters, and mistresses always being big and strong, and able to physically overpower and discipline their submissives and slaves. But what happens when the dominant is or becomes disabled, and requires caretaking from the submissive? This book is an anthology of the experiences of brave disabled dominants and the people who gladly serve them, and how they maintain their authority from the darkness, the chair, and even the bed. These stories are a bouquet of triumph and loyalty, and an inspiration to every temporarily-abled person who reads them. (95 pages, 6″x9″) Buy Hell on Wheels at Alfred Press
Real Service
with Joshua Tenpenny (Alfred Press, 2010)
In any consenting and negotiated personal service relationship, there are hundreds of ways in which the servant can make the master's life easier, and the master can manage the servant most effectively. Why is it that we usually only hear about a few of these ways? From housework to driving to child care to personal care, nearly anyone who is in service (or who would like to be) has dozens of skills they already know that they can offer as a service, and there are countless more practical everyday skills they can learn. Real Service is a handbook for service-oriented submissives and the people they serve, providing techniques to help a service relationship function smoothly, and suggestions for service that can be offered. (124 pages, 6″x9″) Buy Real Service at Alfred Press
Sacred Power, Holy Surrender
Anthology edited by Raven Kaldera (Alfred Press, 2011)
What is it like to live a deliberate negotiated power dynamic — a dominant/submissive, master/slave, or owner/property relationship — as part of one's spiritual path? This book is an anthology of real people who follow that barely charted road in a variety of different faiths and spiritualities. These writings go beyond the simple matter of ethics and move into the realm of relationship as transcendent discipline. Edited by Raven Kaldera, Sacred Power, Holy Surrender takes us into a world where power can be uncorrupted and surrender can be a way to freedom. (216 pages, 6″x9″) Buy Sacred Power at Alfred Press
Double Edge
(Alfred Press, 2010)
Double-Edge: The Intersection of Transgender and BDSM is a smart book that tackles difficult, fascinating, controversial subjects with panache and compassion. It's the latest public service from the fierce and tender pagan priest, activist, farmer, community organizer, oracle, nightmare of those devoted to normal and ordinary, and all-around role-model Raven Kaldera, whose complex identity gives him a rather comprehensive perspective on the topics of kinky sex, alternative relationships, and gender variance. Buy Double Edge at Alfred Press
Power Circuits: Polyamory in a Power Dynamic
(Alfred Press, 2010)
Power Circuits is an alliance between two alternative lifestyles: polyamory, or multiple open and honest romantic relationships; and power dynamics, relationships that choose to be consciously and deliberately unequal in power, such as dominant/submissive or master/slave. Both lifestyles are on the cutting-edge frontiers of romantic and sexual relating, and for a long time practitioners of both have found little sympathy in either camp. This is the first book of its kind that navigates the waters of effective polyamory and power exchanges, with many essays from the brave practitioners who swim there. Buy Power Circuits at Alfred Press
Dear Raven and Joshua: Questions and Answers About Master/Slave Relationships
(Alfred Press, 2009)
The world of consenting Master/slave relationships often seems murky and mysterious from an outsider's perspective, and there are few models for those who are tentatively venturing into it. When it's not just a fantasy any more, reality often turns out to be so different from fantasy that would-be owners and slaves don't know how to make it work in a sustainable way. This book is as far from fantasy as it gets. Written by a real-life Master/slave couple who counsel people in power-dynamic relationships, Dear Raven and Joshua answers real questions about real problems encountered in daily living with M/s. Whether you're playing part-time with a BDSM lifestyle, live in a leather household, or are attempting a 24/7 total power exchange, you'll find this book is a trouble-shooting resource you won't want to pass up. Buy Dear Raven & Joshua at Alfred Press or on Amazon.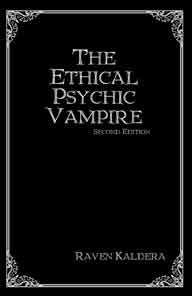 The Ethical Psychic Vampire
Revised & Expanded Second Edition! (Ellhorn Press, 2008)
If you've ever felt that your energy or life force was being continually drained by someone – especially if it was someone that you loved – then you probably should have given them this book. This is the definitive guide to psychic vampires, with exercises and advice to help them learn control and compassion, and get their needs met in ethical ways. Far too many books on the subject treat psychic vampires as "those awful people over there who should be avoided"; this book treats them as real human beings who may need a little help coping with a challenging and ambivalent psychic gift. Written by a psychic vampire and shaman, "The Ethical Psychic Vampire" also covers such controversial topics as spirituality, sex magic, and ceremonial blood-drinking. From coping with vampire children to dealing with your vampire lover, this book covers it all in straightforward style. Buy The Ethical Psychic Vampire at Lulu or on Amazon.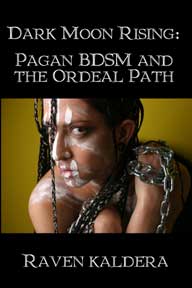 Dark Moon Rising: Pagan BDSM & the Ordeal Path
(Asphodel Press, 2006)
Throughout history, from the Hindu Kavadi ceremony to the Lakota Sun Dance, the Ordeal Path has been an honored spiritual road to the magic of the flesh, and to touching the Gods. Today many Pagans are discovering this path, by accident or by design. Simultaneously, many practitioners of secular BDSM are finding themselves having spiritual experiences in the middle of their most secular scenes. This book explores the crossover points between both these communities and practices, a cross-section which is growing steadily, baring controversial articles on topics as diverse as sacred pain, bondage, hook suspension, cathartic Pagan ritual, the spirituality of dominance and submission, and being the slave of the Gods. With contributions by noted authors and activists in both communities, and stunning photography by artist and Shibari-Do master Bridgett Harrington, this book is an awe-inspiring gateway into the Realm of the Underworld… and back again. Buy Dark Moon Rising at Lulu or on Amazon.
Pagan Polyamory: Becoming a Tribe of Hearts
(Llewellyn Publications, 2005)
The term polyamory describes non-monogamous relationships based on honesty and affection. Presenting a fascinating peek inside the polyamorous lifestyle from a Pagan perspective, Raven Kaldera offers practical insight and spiritual depth into a vastly misunderstood way of life.
Relating polyamory to astrology and the elements (air, fire, water, earth, and spirit), the author addresses all aspects of the polyamorous life, including family life, sexual ethics, emotional issues, proper etiquette, relationship boundaries, and the pros of cons of this lifestyle. Kaldera also discusses polyamory as a path of spiritual transformation and shares spells, rituals, and ceremonies for affirming one's relationships and spirituality. Buy Pagan Polyamory at Amazon