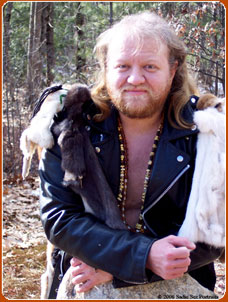 Welcome to my Website!
I'm Raven Kaldera - author, shaman, educator, activist, priest, and many other things. I count myself a part of many different demographics and much of my work is building bridges between them. While I have quite a few websites, this is my hub and home from where you can find everything else that I do. Welcome and enter in a spirit of hospitality and peace.
Do you want to be emailed when I will be in your area?
If you want to arrange a private session with me, or have me give a class, but cannot arrange travel yourself, sign up to be notifed of when I will be in your area. I am generally happy to travel anywhere so long as my reasonable travel expenses are covered.
PLEASE NOTE:
I generally see clients in my office in Fitchburg, MA. There are
very few services
I can provide online or via phone. I do nearly all of my work in person. My office is about one mile from a regional train station. I cannot provide or arrange transportation or housing for you.
Support my Work
Because much of my work - education, activism, and writing - is either unpaid or poorly paid, I have set up an account on Patreon.com, so people can contribute a dollar or so per month. This helps me stay focused on doing the work, rather than on how to pay the electric bill.
So check out my profile on Patreon. We get by on a very tight budget, so every dollar really does make a difference.
You can also support my work directly, by buying my books, buying any of my crafts, or having me out to do classes.
Upcoming Events
Make a Contribution
If you would like to support my work, please consider making a contribution.